Flyboard
" A Flyboard is a type of jetpack which supplies propulsion to drive the Flyboard through water to perform a sport known as flyboarding.
A Flyboard rider stands on a board connected by a long hose to a watercraft. Water is forced under pressure to a pair of boots with jet nozzles underneath which provide thrust for the rider to fly up to 15 m (49 ft) in the air or to dive headlong through the water down to 2.5 m"
Flyboad Shows by Jack Ellison H2O Events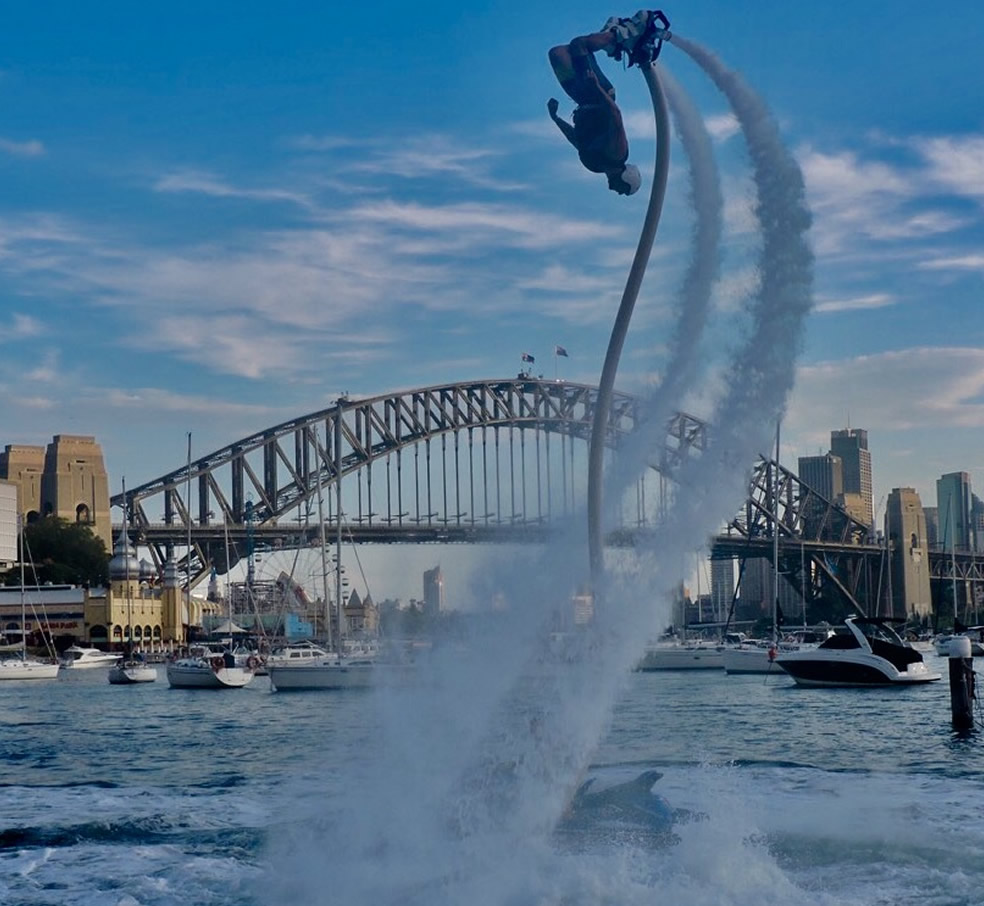 You may have seen Jack Ellison H2O Events and their interactive FLYBOARD firework multimedia shows live at the following famous locations:
CHINA: Chimelong Ocean Kingdom Theme Park
AUSTRALIA: Australia Day at the Sydney Regatta Center, Sanctuary Cove, Redcliff, Sydney Harbour and Darling Harbour
UAE: The Sharjah Water Festival
WORLD LEADERS in interactive FLYBOARD firework multimedia shows, Jack Ellison and his team at H2O Events are the PIONEERS being responisble for some 1700+ flyboard shows around the world!
Equipped with a PROFESSIONAL TEAM of flyboarders, H2O Events perform the well known SYNCRONISED shows including DOUBLE BACK FLIPS
The H2O Events Flyboard Shows are UNIQUE and STATE OF THE ART as they include the FIREWORKS BACK PACK - developed by H2O Events
The Fireworks Back Pack is a PYRO PACK BACK used by flyboard pilots - this allows a FIREWORKS DISPLAY off the back of the flyboarder which is computer controlled and can also be syncronised to music.